Part of the excitement of working at Image-In is the diversity of designs we create. On any-given-day we may be designing artwork, magazine ads, logo's, stationary, promotional and inspirational projects, marketing materials, posters, brochures, and of course, web sites. Creativity and passion inspire our imaginations. Our friends at Adobe continue to provide ever-more powerful tools that allow us to produce even more distinctive artwork on our digital canvas.
Today, all designers have access to the same powerful software tools, but not to the same inspiration,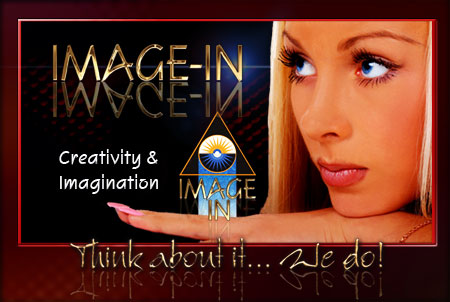 creativity, ideas and imagination. At Image-In, we are passionate about creating art and an experience. Whether our canvass is for a commissioned one-of-a-kind graphic or a brochure, our job is to make you look good. We listen, we design, while you tell us what you enjoy!
The Gallery contains examples of our past and present works. We hope you enjoy your visit and welcome your comments.
For questions or for more information please call +1 540-338-2221
Email Graphics@Image-In-USA.com
If you want to display our artwork in your gallery, store, or website? Please contact us at: admin@image-in-usa.com Generous commissions are available.

The Image-In name and logo are registered trade marks of Image In, Inc.